HELENE LUCIEN & MARC PALLAIN
FUKUSHIMA:THE INVISIBLE REVEALED
MAISON EUROPEENNE DE LA PHOTOGRAPHIE  PARIS   (Sept/Oct 2016)
---
 THE EXHIBITION
How does one depict the unimaginable and the inaccessible?
After the accident in Fukushima in 2011, Hélène Lucien and Marc Pallain combined their artistic talents in an effort to offer a new approach to the disaster.
In her work, Hélène Lucien, a visual artist, focuses on experimentation and research on the resonance of different mediums and artistic practices, highlighting the gap between our knowledge of the physical world and representations of that world.
Photographer Marc Pallain explores ways of narrating temporality and its impact on the urban or rural area by showing the traces of memory inscribed on faces or on the landscape.
Combining these two artistic approaches, the exhibition « Fukushima, the Invisible Revealed » has been imagined as a sensorial journey into the reality of a nuclear exclusion zone. Each element offers a unique perspective on the consequences of the accident – daily, long-term, unspeakable – and invites the visitor to question what happens after Fukushima and beyond the Nippon borders.
The chrono-radiographs  ( chronoradiograms) in the first gallery constitute the heart of the project. They are presented as stained-glass windows, a glimpse into the invisible, in resonance with photographs taken in the zone, video montages and sculptures specifically created for the exhibition. All these works pose questions about the « aesthetics of disaster » and the « dramatization » of a paradigmatic event, and impose themselves as a revelatory record of the event, versions of a silent, emphatic and imperceptible reality.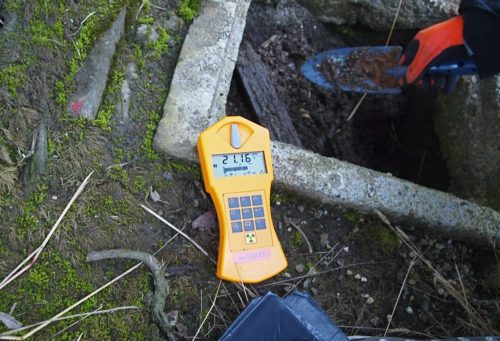 By revealing the invisible, Hélène Lucien and Marc Pallain offer temporal representations of the dialogue between the constantly changing reality of the evacuated zone and the traces printed on radiographic film. They thus awaken the collective memory, put faces on the site's inhabitants and act as a witness to the indefatigable efforts, by man and by such governmental organizations as Sisyphus, to erase the irreparable.
HELENE LUCIEN & MARC PALLAIN
FUKUSHIMA:THE INVISIBLE REVEALED
MAISON EUROPEENNE DE LA PHOTOGRAPHIE  PARIS   (Sept/Oct 2016)      38 064  visitors
---